Oracle Fusion Procurement Training
Live Virtual Classroom Training | Oracle Fusion Procurement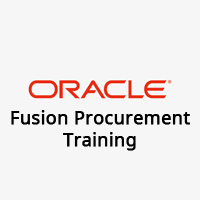 Become an Oracle Functional Consultant for procurement to deliver robust designs and methods for implementation of Oracle Fusion Procurement for organizations. Manage all procurement operations for a supply chain ranging from gathering item requirements to managing suppliers who deliver resources.
Oracle Fusion Procurement consists of 7 major features: Purchasing, Self-Service Procurement, Sourcing, Supplier Portal, Procurement Contracts, Spend and Performance Analysis, KPIs, Dashboards and security. Learn the in and outs of Fusion Procurement features which serve as basics for better supply chain management.
Topics covered in this course
Who should Attend Oracle Fusion Procurement Training?
Functional Implementer for implementing Oracle Fusion Procurement for businesses according to requirements
Cloud Users, who help existing Oracle e-Business suite clients to upgrade to Oracle Fusion software
End users, who want to demonstrate their expertise in managing Oracle Fusion procurement features
Business Analysts who want to use Oracle Fusion Procurement to gather business related data and take necessary actions
Financial Analysts who want to leverage financial information and flows using Fusion Procurement
Implementation Consultants who want to expand their skill set, offer solutions to implement Oracle Fusion Procurement
Administrators who want to master Oracle Fusion Procurement and manage processes involving for their organization
Master the modules of Oracle Fusion Procurement ranging from self service procurement functionalities, managing supplier portals, defining procurement contracts to assessing supplier qualification through our Oracle Procurement cloud training program
Collaborate, report and gather analytics for better management
Enable touch-less buying experience using sourcing features
Understand relationship between supply chain management and procurement
Identify key concepts, factors that determine successful implementation of Oracle Fusion Procurement
Use Oracle Procurement cloud to perform functional, transactional tasks establishing best procurement management practices
Systematic approach towards learning; both instructor-led classroom and online classroom training programs. We use presentations, diagrams and case studies with relevant examples
Learn from Oracle Certified Trainers and industry experts who train you on the best practices and factors to employ while implementing Oracle Fusion Procurement
Reinforce and promote best practice and high standards in the industry and focus on being an impartial organization offering services internationally in support of businesses and professionals within the sector
Learn practices, hand-on implementation; gaining experience, making you ready for oracle fusion certification
Mock interviews for the candidates after the program to become job-ready for industry
By the end of our Oracle Fusion Procurement Training program, individuals will be able to successfully implement various Oracle Fusion Procurement modules as per business requirements, demonstrate their skills.
We offer the best Oracle Fusion training in Hyderabad, Mumbai, Bangalore, Pune, Delhi and Chennai at India, Saudi Arabia, Kuwait and USA globally
Trainers are Oracle Supply Chain Management (SCM) – Procurement Professionals with overall 15 years experience
Experts in handling responsibilities for various organizations in IT in the fields of business management, training, software development and implementation.
Experts in configuring Oracle Supply chain modules and handling functional features such as Implementation, Rollout, Upgrade, Enhancement, Testing, Production Support, Customization of business applications, User Training, Analyzing business requirements, writing functional design specifications
Good Knowledge and experience on iProcurement, Sourcing, Data loader and UPK
Ability to interact directly with client and/or end users, super users to solicit information and define solution requirements
Experience in implementation of Process mapping, configuration, AS IS analysis, TO BE process development integrating various modules, Gap Analysis & Developing Functional Design Specifications
Documentation using AIM, Involved in documentation in accordance with standards (BP80, BR100, MD50, CV40 and TE40). Successfully completed on 2 Implementations, 1 upgrade, 1 Roll out and 2 Production support in designing effective business solutions across SCM Modules
Why Aads Education?
Excellent Customer and after sales support
Global Experience of 16 years in the field of Education, IT, Management Services and Media
Collaboration with Global Giants in the field of Education
Award Winning Training organization
We operate in multiple countries
We offer both Online and Classroom trainings
We constantly upgrade our course ware, staff, facilities, trainers and we follow the latest trends of the market so that we can offer you the best and latest
We assist our participant in placements through our HR consultants and have tie up with large organization
Our Professional trainers and mentors are industry experts
Our ultimate goal through the training programs is to build high value and high end professionalism in every individual
Professionals participated from